EMDR Institute Basic Training
Applications for EMDR Institute Part 1 Basic training April 11-13, 2022
are now open.
This training is now fully subscribed
.
This will be an online training. Click here for application form
Trainings offered in New Zealand are EMDR Institute accredited. The EMDR Institute is the international training body. The Institute trainings across the world are identical and recognised by all participating countries. EMDR Institute trainings have been accredited by EMDRNZ. As the trainings are identical, it is possible to complete your Basic Training with different Institute Trainers for each Part.

The EMDR Institute web site (www.emdr.com) gives more information about Institute trainings as well as general information about EMDR therapy.
The Institute Basic training consists essentially of 4 parts, the two workshops each being followed up by a minimum of 5 hours Case Consultation with an EMDR Institute accredited consultant. Participants optimise their exposure to the practice of EMDR during each of the training days with separate practicum sessions. The six days are broken into two, 3-day trainings named Part 1 (historically referred to as Weekend 1) and Part 2 (Weekend 2). Each three-day training is followed by a minimum of five-hours case consultation. The term case consultation is used by the Institute to differentiate between the routine supervision that all therapists should be having regularly, and the accredited EMDR case consultation that assists in consolidating what has been taught in the workshop. It is a requirement to have practiced EMDR therapy (approximately 30-35 hours minimum) with clients and to have attended a minimum of 5 hours of case consultation after the Part 1 training before being eligible to attend the Part 2 training. It is for this reason that you are not able to attend both the Part 1 & 2 trainings at the same set of trainings. The case consultation that follows the trainings is provided by case consultants who have been given additional EMDR Institute Training and have committed to ongoing training.
Eligibility to Attend EMDR Therapy Training.
The EMDR Therapy Basic Training (Part 1 and 2) is designed for licensed mental health practitioners who treat adults and children in a clinical setting. EMDR is a complex therapy requiring academic training to Postgraduate diploma level in relevant mental health fields and supervised experience in psychological therapies. To check whether you meet eligibility criteria, click here.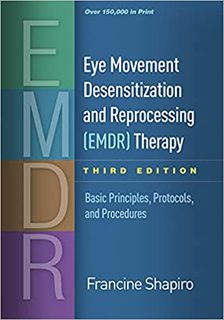 The substantially updated textbook by Francine Shapiro, PhD, Eye Movement Desensitization and Reprocessing (EMDR) Therapy: Basic Principles, Protocols and Procedures. Guildford Press, NY, 3rd Edition, 2018 is an excellent resource.
EMDR is a comprehensive psychotherapy that accelerates the treatment of a wide range of pathologies and self-esteem issues related to disturbing events and present life conditions. The interactional, standardized approach has been empirically tested in over 29 randomized controlled studies with trauma patients, and hundreds of published case reports evaluating a considerable range of presenting complaints, including depression, anxiety, phobias, excessive grief, somatic conditions and addictions. EMDR therapy is guided by the Adaptive Information Processing model which addresses the unprocessed memories that appear to set the basis for a wide range of dysfunctions. A number of neurophysiological studies have documented the rapid post treatment EMDR effects.
Goal of the EMDR Therapy Basic Training
This experiential training will familiarize participants with a broad spectrum of EMDR therapy applications sufficient for comfortable and efficient use with a wide range of clients and situations.
EMDR therapy is a specialized approach that requires supervised training for full therapeutic effectiveness and client safety. The training will consist of lectures, live and videotaped demonstrations and supervised practice. The format of the training has been authorised by the EMDR Institute. Workshop trainers have attended "train the trainers" workshops and passed competency based examinations before being certified to conduct trainings. The EMDR Institute adheres to the ethical standards of regulatory bodies of Mental Health Clinicians in NZ.
Integrating EMDR with Other Approaches
As an integrative psychotherapy approach, EMDR is compatible with all contemporary paradigms including, psychodynamic, cognitive-behavioural, experiential and systemic therapeutic modalities.
EMDR Basic Training Workshop Cost
Basic EMDR Training Part 1
$990.00 (incl. GST)
The follow up Case Consultation component after the Part 1 training is an additional cost which is negotiated with your case consultant.
Basic EMDR Training Part 2
$990.00 (incl. of GST)
Bookings will not open until October
The follow up Case Consultation component after the Part 2 training is an additional cost which is negotiated with your case consultant.
10 hours of case consultation are required to complete the EMDR Basic Training
5 hours required after attending the Part 1 workshop and 5 hours after attending the Part 2 workshop
Workshop fees do not include case consultation
Group case consultation training dates are posted on this website here or at www.emdr.org.nz
Estimated Costs for Case Consultation
Dr Flewett charges $250 (incl GST) per person for a 5 hour group case consultation. Individual sessions cost $175 (incl GST) per hour. Please check with the other case consultants for their fees.
Zoom Case Consultation is more often used in the era of COVID-19.
See Case Consultation for more information.
Training Highlights
Supervised small group practice on each training day
Physiological overview of the Adaptive Information Processing model
Specialized history-taking to identify dysfunctional patterns and causes
Treatment planning to address past events, current triggers and future needs
Stabilization techniques
Reduction of overt symptoms to move towards better mental health
Addressing the full range of trauma and other disturbing life events
Applications to combat trauma and first responders
Applications to addictions, grief, anxiety, depression and somatic disorders
Applications to natural and man-made disasters
Applications to family and couples therapy
Personal use for therapist to process vicarious traumatization
10 hours of didactic + 10 hours of supervised practice

Identify 3 components of the EMDR approach designed to provide effective treatment with clients
Describe 3 important existing research studies
Name the 8 phases of EMDR therapy for comprehensive treatment and how to implement the phases with clientsIdentify the parameters treatable with EMDR therapy to safely and effectively implement EMDR therapy with clients
Describe 3 aspects of the AIP Model for effective case conceptualization and treatment planning
List 6 types of client complaints treatable with EMDR therapy
Describe the criteria for client selection and how to apply to client cases
Describe 3 safety measures for effective and safe use of EMDR therapy
Learning Objectives: Part 2
10 hours of didactic + 10 hours of supervised practice

Describe 3 strategies to identify and effectively resolve problem areas in the utilization of EMDR therapy
Describe protocols for closing down incomplete sessions
Describe 3 resources for enhancing stability
Describe a treatment plan to choose and prioritize targets for EMDR therapy
Describe strategies for dealing with highly emotional responses
Describe strategies for dealing with dissociative symptoms and phobias
Describe strategies to treat more complex trauma-related disorders
Certificate of Completion of Basic Training
Certificate of Completion Requirements:
Completion of Part 1 and Part 2 Trainings
Reading the textbook, Eye Movement Desensitisation and Reprocessing (EMDR) Therapy: Basic Principles, Protocols and Procedures (3rd Edition) Shapiro. 2018. Guildford Press, NY.
10 hours of case consultation with an EMDR Institute Approved Consultant.
5 hours are required after attending the Part 1 workshop;
5 hours are required after attending the Part 2 workshop
Signed copy of completed Evaluation and Consultation Sign off Form
Log of recommended 30-35 clinical hours of EMDR Therapy is required.
Workshop Timetable For Part 1 & 2
Registration is from 8am on Day 1 and the lectures start at 8.30 promptly each day.

Please note that the training is from 8.30 - 5 each day.

If you need to leave early for any reason, you will need to make up the time lost with either the trainer or a facilitator to meet the requirements of the Institute Training in order to receive your Certificate of Completion. This may incur an additional cost.
Workshop fees include workshop manual, EMDR Institute fees.
Payment is due 4 weeks prior to start of the course.
These fees apply from January 1 2022.
Fees presented on the web site are for workshop tuition only and fees for case consultation are additional to those noted on the web site.
If you have already completed an EMDR Institute training and wish to repeat the training, then you may be eligible for a reduced fee of $650 (incl. GST). This applies to persons who apply within 3 years of completing the training. If it has been more than three years since you did your training, then the full fee applies.
Minimum numbers are required and a full refund for the training will be given if the training does not go ahead.
Participants may wish to consider purchasing cancellation insurance when making travel and accommodation arrangements. This is increasingly important in the era of COVID-19.
In the unlikely event that a training is cancelled, for example due to the trainer becoming seriously ill, or in the event of a natural disaster, a full refund for the training will be given.
The training program has, as an integral component, practicums in which participants practice the techniques of EMDR Therapy in pairs or threes. This involves close proximity to other trainees. Should you be suffering from an infection which is easily transmitted, thought should be given as to whether to cancel out of consideration for others.
Refunds for cancellation within 7 days of a booked training will be offered if accompanied by a medical certificate.